DERIV X – A New CFD Trading Platform to Fit Your Needs
Deriv Group – the owners of the Deriv and Binary. com brands – has a history that dates back to 1999 when they laid the groundwork for the world's first fixed-odds trading service. Since then, they have grown from strength to strength, garnering the trust of traders around the world. Now they offer DERIV X – A New CFD Trading Platform to Fit Your Needs!
Now you can personalize your trading experience when you trade CFDs on forex, synthetic indices, cryptocurrencies, and commodities with Deriv X.
Deriv X offers a customizable trading platform with feature-rich charts, different accounts with seamless switching, and powerful technical analysis tools.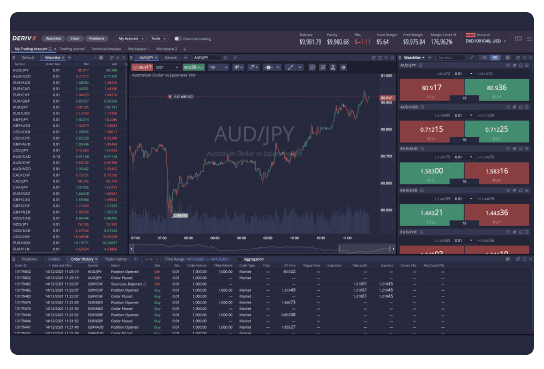 Intuitive dashboard
Keep track of your trades, learn from historical trades with the journal, and create custom watchlists for your favorite assets. Your dashboard can be modified and arranged any way you want.
Margin indicator
Stay informed of the margin impact on your account before every trade. Focus on the trading and let the system do all the calculations for you.
Multiple chart views
Choose from 90+ indicators and 13 drawing tools to create your favorite views. Use different tools for different assets according to your strategy.
Get started today
Add a Deriv X demo or real account

Start trading on Deriv X